Thanks… one less thing keeping me up at night. Now I can concentrate on making sure people around here correctly load the dishwasher.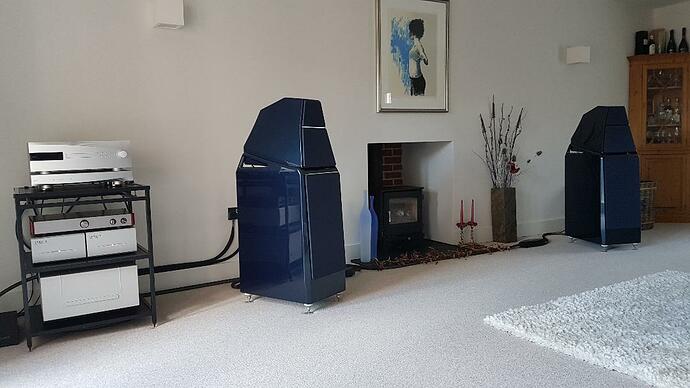 Rossini CD Player and Clock, Constellation Stereo 1, Wilson DAW, Transparent Ref, Isol-8 power conditioning, CAD GC1. experimenting with and without passive VC shown using Rotel RHC10.
We have all pursued different paths to reach where we are now. My path has led to quite a different result than Miguel. However I find his system intriguing and desirable. I would love to hear it. Original and superb.
Here is my setup:
Analog: SME 75th Anniversary Diamond Series Synergy turntable, which has SME Series IV tonearm, Ortofon's 'exclusive series' MC Windfeld Ti cartridge and a specially designed phono stage by NAGRA, all coupled with mono crystal silver wire by Crystal Cable.
Digital:modified Mac mini as Roon server with Uptone JS-2 Linear Power Supply, DCS Rossini DAC paired with DCS Vivaldi Clock, Uptone Audio EtherREGEN.
BD/DVD player OPPO 205 (for video only),
Preamp: D'Agostino Progression Preamplifier
Amplifiers: 2 D'Agostino Progression Mono Amplifiers
Speakers: Wilson Audio Alexx
Power unit: Nordost QBase Qb8 Mark II, QKore 6 earth unit
Audio Cables: All Transparent Audio G5 Reference
Power Cables: Transparent Audio G5 Reference and XL series
Are the speakers Wilson Audio Alexx (predecessor to Alexx V)?
Also, what are the equipment stands?
Anyway, looks very fine.
Yes, these are Wilson Audio Alexx
Stand is custom made. It took about 4 month to complete. The weight of one four-shelf rack is about 300 kg. (granit shelfs from India is 3 cm thick and are extremely havy). The solid vertical supports is made of non magnetic stainless steel (also very havy as have almost 4 cm in diameter). The amplifier stand has nice shape and supported by four Nordost Sort Füt (ceramic balls) feets.
Here some highlights from my Instagram page:
Beautiful system