Way cool Franco

.
Very cool! What CD player is that on top?
DCS Rossini Transport (CD/SACD)
What is it like to not have debilitating OCD?
You tell me!

Absolutely love the thought of the combination of Audio Research with dCS. Top draw all of it !!!
Thanks Ben. I love the combo. IMO, Wilson speakers are also a great complement to ARC amps.
My UK based HIFI retailer suggests I need to listen to a demo of Wilsons. I am still resisting as I have had nothing but electrostatics (Martin Logan) for so many years now. In the past I have owned a number of ARC preamps which I still have a soft spot for (Im now going down the Chord Electronics routefor amplification).
Brian, I would recommend that you audition Wilson+ARC+dCS. It's a great combo IMO.
I've owned 3 sets of Wilson Audio speakers: Sabrina, Sasha DAW, now Alexx V. I have loved all of them.
My current setup includes dCS Vivaldi DAC, dCS Vivaldi Upsampler, Classé CA-2300 and TransparentCable Reference PowerIsolator, in addition to the Alexx Vs.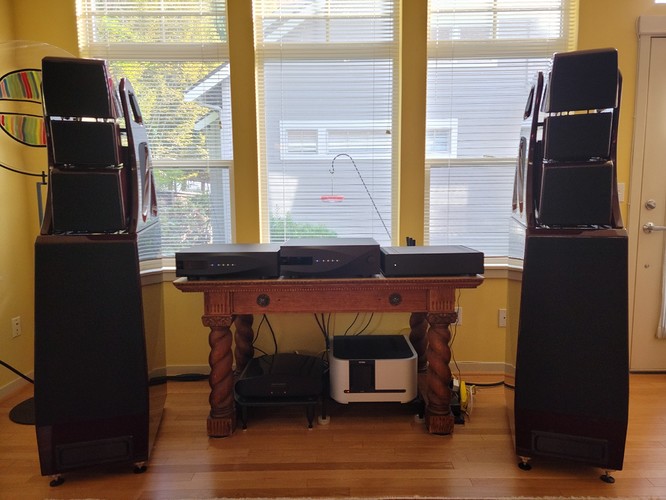 Top James! What is the black box at the top right?
It's a Windows 10 Pro x64 computer, running Roon as a music server. I had the computer built by a semi-local outfit (EndPCNoise, in Vancouver, Washington State (not British Columbia)) with no moving parts: Passively cooled, SSDs for storage. I've been entirely satisfied with it.
Thanks. Did you deliberately not get a Vivaldi Clock?
Purely a financial consideration: I bought the AlexxVs and the Vivaldi components more or less at the same time, so I was tapped out for this year. I hope to get the Clock next year.
2022 will be a cheap year for you

Great system James. Congratulations! Only, I would add the Clock soon!
Would love a pair of Alexx V. Unfortunately I own Alibaba stock so I'm stuck with PSB Alphas until I have to pawn them to fund my next margin call.
Wish I knew… you have a great system but… looking at this picture fills me with dread. I just keep trying… to… push the top AR box to the left so it aligns with the box below it.