Two weeks ago I had the pleasure of doing most of the demos of the system below at Klangschloss 2023 for Neukomm and Stenheim. I have known the owners of both companies for a long time and I find their systems outstanding and have their equipment in my main system at home.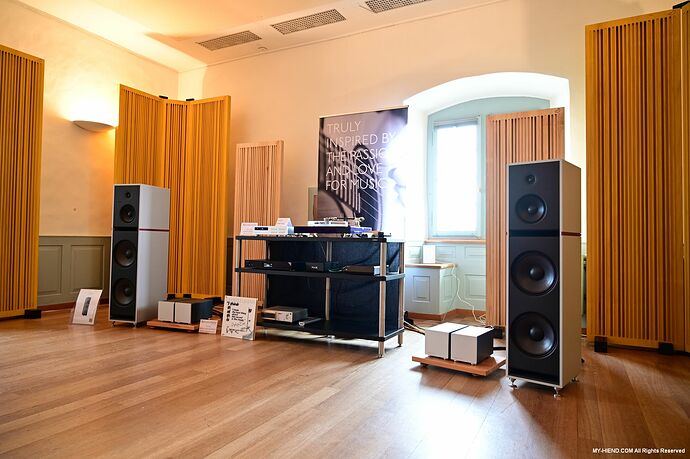 Source of image:
MY-HiEND
Although I use a Rossini APEX with Clock as my main digital source at home, the system at Klangschloss used the Neukomm CDA126SE Preamp / DAC with a Melco frontend for digital playback. It is slightly more analytical than my Rossini, although with the APEX upgrade, the two DACs have moved closer. The speakers were Stenheim Alumine FIVE SE , Absolute Sound Product of the year winner 2022. Amping was biamped Neukomm P135S Monoblocks.
The acoustic panels for treatment of the room were installed by Igor Fiorini.
With a system of this quality, all of a sudden recording quality becomes the critical element. I was surprised that many recordings I had thought to be outstanding in the past, started showing their weaknesses. I has alway liked Francesco Piemontesi's Mozart Piano concertos on Linn. On this system it became clear that the strings sound somewhat congested in the fortes and violins have a hard edge. The piano sounds beautiful.
Kertesz' Dvorak ninth sounded great up to the entry of the tympani. The following fortes sounded compressed. I have yet to find a recording of a full orchestra where massed strings sound real and uncompressed. Obviously labels do not engineer their recordings for systems capable of very high dynamics. Average systems need to be able to reproduce is as well.
Prof. Johnson's RR recordings with Eiji Oue fared better, but still showed some slight compression effects in forte passages. The best recordings to my ears were those by Jean-Claude Gaberel, a Lausanne based producer. Some of his recordings are issued by Claves. The Saint-Saens is available on Qobuz.
So I am looking for examples of outstanding recordings that are neither compressed nor distorted and I'd be grateful for some suggestions.
Thanks a lot