@Ermos kindly gave permission for me to open the November thread. Here we go: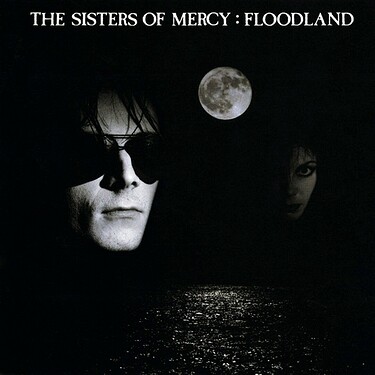 Floodland
The Sisters Of Mercy
With 'Floodland' the Sisters of Mercy created a milestone which shaped both the gothic rock genre and goth subculture. 34 years on the album has retained its allure. The first Sisters album was closer to post-punk. Something new and different is emerging here. Andrew Eldritch was alone after the departure of the other two Sisters and brought in Patricia Morrison for this album. Plus a forty member choir.
A kind of deep darkness underlies the music on 'Floodland' - darkness as an inescapable way of experiencing life that is immediately obvious to the familiar and difficult to convey to the unfamiliar. It is neither about depression nor horror. Rather, figuratively speaking, it is about disorienting, involuntary forays through the abysses of human existence. One is moving forward - but where to? It is pitch black down there and the lost ones wander about without a light in their hand. No one shows the way. Where to? …where to?
With 'Floodland', Andrew Eldritch succeeded in giving darkness a lustre or shimmer that it does not have. This is where the music's fascination comes from. The abyss seems dangerous and at the same time highly enticing. If we immerse ourselves in the music, we can let inner images rise from the unconscious without moving pictures in front of our eyes. A cinema of unconscious contents emerges. Thus the musical gesture of the album is ominous, cinematic and directed at the silver screen.
Eldritch routinely builds up arcs of tension. Short moments with their slightly uneven rhythm put us in anticipation. Other passages flow like fresh blood across a polished steel surface. The lyrics resemble cryptic poems. Their content is about decaying monuments of power, the rain after the reactor accident in Chernobyl, the fall of great empires, war, and journeys through cosmic nothingness.
My favourite song is '1959'. Eldritch sings monotonously, melodiously, whisperingly, emphatically, epically, beautifully and creepily at the same time - accompanied just by a digital piano. This excerpt from the '1959' lyrics provides a sense of the song and the whole album:
Which way the wind blows
In nineteen fifty-nine
And the wind blows still
And the wind blows wild again
For a little child can never kill this clean
This way
And it feels like me today
Tell me
Do you feel the same?
Isabelle?
Or do you feel like nineteen fifty-nine?
…Do you feel like nineteen fifty-nine?
And the wind blows wild again
And the wind blows wild