Any thoughts on high quality balanced XLR Cable for susvara ?
I have never been disappointed by Moon Audio Silver Dragon, but who knows what's "best"? FYI, I am running my Susvara on the Trafomatic Primavera, and I chose the 4-pin balanced connector.
I love love love the cables from Viking Weave Cables.
I have three of their Isa model, and if I need another connector (have 3-pin and 4-pin mini-XLR and 3.5mm already) then I'll head Sebastian's way once more.
Beautifully made, not microphonic at all, and really pretty to boot.
Here's a pic of the cable (my actual cable — proud parent here) I use on my Meze Empyreans. The one I use on the Susvara looks the same, just with 3.5mm connectors.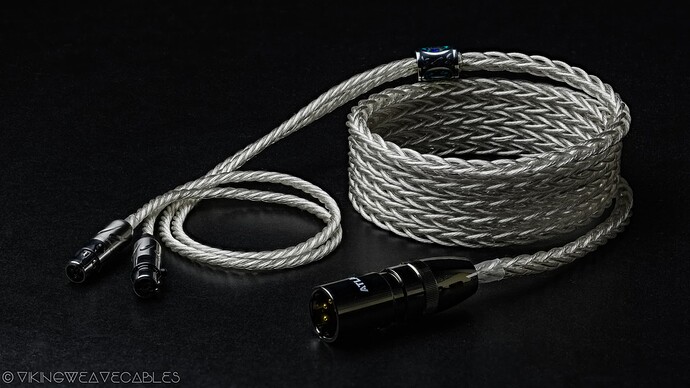 I have Norne Vygarde Fusion and also DHC Complement C15. The Norne cable is a significant upgrade over stock and is lightweight and flexible. The DHC I think is a contender for best headphone cable available for high current headphones (1266 and Susvara). It sounds incredible but is very heavy (like speaker cables!) and less flexible, not to mention over 4x the price of the Vygarde.
Thx, just ordered the DHC for my Susvara.
Awesome - It's a fantastic cable for sure. I will reiterate that it is heavy, so it does make the Susvara a bit less comfortable to wear. But the weight can be mitigated a bit - I usually place the cable on my chair's armrest so the chair bears most of the weight.
The only other thing I would mention is a fairly long break-in period (maybe 200 hours to play it safe). And potentially long build time. I would recommend asking for an estimated build date and then following up regularly. Also you can have adapters made so you can use the cables with your other headphones. The cables are perfect for the 1266 TCs.
Hi. New to the forum and this is my first post. My Bartok arrives today (with headphone amp). I am very much looking forward to it.
I am using Arctic Magnus Elite series copper cable terminated 4-pin XLR for my Susvara. I have an Arctic Integra cable as an adapter for 4-pin XLR to 6.3mm. Also beautiful with no microphonics.
The Viking cables look beautiful and better priced on the higher end than the Arctic cables. I would consider a silver-coated copper cable from Viking next. The equivalent cable from Arctic is the Integra, which is quite pricey.
I have Focal Utopia Headphones and I've used a Lavricables custom length 20 silver conductor 4 pin XLR. It's a great combination.
Thranks for the recommendation
Frankly after a while this EXPENSIVE cable was underwhelming. XLR feels like printed plastic. Ordered it too short. Contacted maker……….a quick too bad? Did not get 2k yes 2k worth of service empathy . Still searching for the right Susvara cable.
By example I spent about the same for a custom cable for my AB 1266 from JPS labs and that looks, feels and functions like a 2k quality cable. My comments of the DHC's is by comparison of JPS. These guys are are audio guys who have the right approach to helping their customers. Can't tell you how many times they sent me stuff to try before i spent my hard earned cash. Love to do business with them. Wish they did Susvara cable