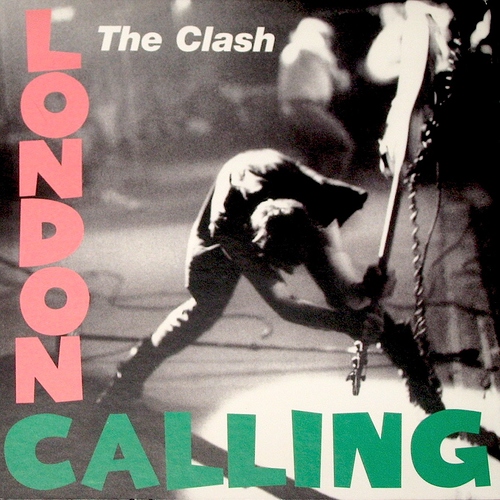 The Clash – London Calling
Forty years ago this summer, The Clash were in London's Wessex Sound Studios putting the finishing touches to an album that many now regard as the magnum opus of the post-punk rock era. Recorded right at the end of the nineteen seventies, it has come to symbolise the spirit of that time better than anything else of its day. It was finally released in the UK on 14th December, 1979 to rave reviews across the British music press – and was notable for being a double LP that sold for the price of a single one. This was proof, said the band, that The Clash was 'grass roots' outfit that stood in opposition to music industry corporatism and profiteering.
London Calling also happened to be the band's best album to date, by far. It saw a return to form for lead vocalists, guitarists and lyricists Joe Strummer and Mick Jones. It was a major evolution of the thrashy, rough-and-ready sound of the previous two Clash albums and took in a wide variety of musical styles. Musically it wandered around all over the place, borrowing from ska, reggae, rockabilly, jazz and heavy rock – whilst still retaining a distinctive feel. It was a work of surprising eclecticism and maturity – both musically and lyrically – without cleaving off too many rough edges.
The title track was a barnstorming anthem that chronicled the decadence and decline of British life in the late seventies – a country brought to its knees by strikes and economic mismanagement, immediately after the so-called 'Winter of Discontent'. "London is drowning… and I live by the river", wrote Joe Strummer, summing it up pithily. Thematically, the LP touches on social alienation, unemployment, racism, drug use and corruption – yet never feels preachy and brims with charm. That's why London Calling stayed in the UK album charts for so long after its release, going on to sell over five million copies worldwide despite never being a mainstream pop album.
Musically, drummer Topper Headon came to the fore, really pushing the band beyond formulaic new wave – aided by a rapidly maturing Mick Jones writing most of the music. At the same time, bass player Paul Simonon was let off the leash and penned the excellent Lost in the Supermarket. CBS records were unhappy with the band's choice of Guy Stevens as producer, but he invests the album with a warm, spontaneous and slightly chaotic feel. The recording sessions themselves were intense eighteen-hour days, with many songs recorded in just one or two takes. The result is an album that supplies song-after-song of gripping rock music, with poignant and/or quirky lyrics, plenty of catchy tunes and a massive attitude. From Brand New Cadillac to Guns of Brixton, it's packed with memorable moments, and – rather like The Beatles' White Album – plays perfectly from beginning to end.
London Calling sounds great through a serious hi-fi system, with plenty of detail and an enjoyable musical feel. Being relatively unprocessed and largely played live, it's like nothing around today. Collectors think that the recent Japanese remastered CD package [Sony EICP-30018/9] is the one to go for, but the stock UK silver disc [Columbia 495347 2] is still great fun.
Listen to London Calling on our 2019 AOTM TIDAL playlist